News Desk, Technicalguruji, New Delhi.
Published by: Pratibha Jyoti
Updated Mon, 13 Sep 2021 07:53 PM IST
Summary
Afghanistan is in deep economic crisis. The country is facing a cash crunch due to cuts in international aid after the Taliban took power. Experts have warned that the country is heading towards economic catastrophe.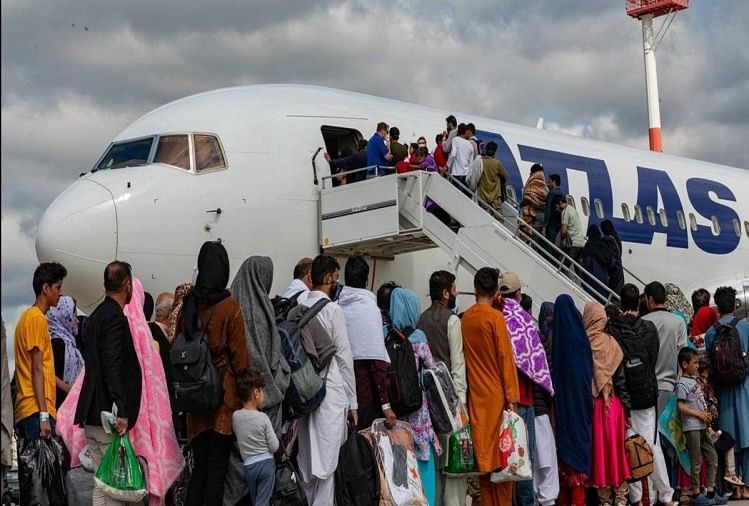 Afghan citizens were competing to leave the country for fear of Taliban
– Photo : US Air Force
Expansion
Afghanistan has been facing a severe cash crunch since the Taliban took control of the capital Kabul on August 15. The World Bank, the International Monetary Fund and its central bank based in the US have blocked its funding to Afghanistan. Banks across Afghanistan were closed for several days and ATM machines are lying empty. Now banks have opened but people were seen standing in long queues waiting for cash.
people forced to sell goods

According to international media reports, a large number of people are selling their household items at huge losses for food and basic necessities. Hundreds of people are reaching Kabul's Chaman-e-Hojori place every day to sell refrigerators, cushions, fans, pillows, blankets, curtains, bedding, mattresses, utensils, silverware. At the same time, many shopkeepers are not able to earn any profit despite the goods being filled in the shop. Whereas inflation has increased a lot in the country and there is a shortage of many basic necessities in the country.
In a report released last week, the United Nations warned that more than 97 percent of the population could be below the poverty line by the middle of 2022. There is an urgent need for food, medicine, health services, safe water, sanitation and security in Afghanistan. UN agencies and non-governmental partners have launched an appeal to raise USD 606 million to provide relief to 11 million people in Afghanistan.
United Nations came forward

UN chief Antonio Guterres addressed a high-level humanitarian aid conference in Geneva today to help bring Afghanistan out of crisis. The purpose of this conference is to provide financial aid to Afghanistan, in which about a third of the food aid will be sent. The UN chief announced the allocation of US$ 20 million for Afghanistan.
According to the information received, Guterres said at this conference, "The people of Afghanistan need a lifeline. After decades of war, suffering and insecurity, they are probably facing the worst situation right now. He called on the international community to join them." He urged the international community to stand up, saying: "Time is short and events in Afghanistan are moving fast, so do all you can."

ensure the safety of employees

According to media reports, Guterres told the conference that he had sent UN Under-Secretary-General for Humanitarian Affairs and emergency relief coordinator Martin Griffiths to Kabul last week to meet with the Taliban leadership. Griffiths met with Taliban co-founder Mullah Abdul Ghani Baradar and other Taliban leadership in Kabul to discuss humanitarian issues. Guterres said he has pledged to assist Afghan citizens. Therefore our employees and all support personnel should be allowed to do their important work in a safe environment without any harassment, intimidation or fear.
.

#Afghanistan #People #forced #sell #fans #mattresses #utensils #cash #crisis #United #Nations